"Deep Water" is the tenth episode of Thunderbirds Are Go! season 3. It was broadcast on May 18, 2019, in the United Kingdom.
Plot
When two scientists notice acidic waters are bleaching the Supreme Barrier Reef, Gordon launches in Thunderbird 4 to discover the cause. Under the water, he finds a sunken cargo ship containing dangerous acidic materials - which could pose a threat to the entire ocean.
Cast
Regular Cast
Guest Cast
Quotes
Gordon: "International Gordon, Rescue here!"

Gordon: "Okay, I'm gearing up! And the crowd goes wild..."

Parker: "Once again, it's International Rescue's secret weapon Parker to the rescue..."
International Rescue Equipment Used
Gallery
Trivia
This is the first season 3 episode to be written by Len Uhley and his last contribution to the series.
This episode contains two firsts for Gordon; first solo launch sequence and first time Gordon has appeared without other members of his family.

Gordon's line "I'm gearing up... and the crowd goes wild" may be a nod to some fan requests to see him do so, as (up until now) he has only been seen boarding whichever craft he was required in. (This line was actually "and the crowd goes mild" because he was the only one there)
When Gordon activates the hand scanner, a riff from The March of The Thunderbirds by Barry Gray can be heard.

This episode continues from Rigged for Disaster, as Lady Penelope expressed desires to convert the derelict oil rig.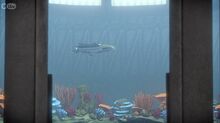 A model of Stingray appears during Gordon's launch sequence.