"He's still at it, poor fellow. Seems to be under some delusion that he's in charge of the rescue."
— Allington Bridge Controller
"Day of Disaster" is the sixth episode of Thunderbirds season 1, originally broadcast on 4th November 1965.
A severe electrical storm weakens the Allington Suspension Bridge, causing it to collapse when the Martian Space Probe convoy tries to cross it - sending the massive rocket itself, and its crew of two technicians, crashing down into the river below. Worse - the rocket's impact with the riverbed triggers the automatic onboard launch countdown, which cannot be stopped! International Rescue - summoned by an unexpected source - answers the call and must get those men out, before the now-rogue rocket launches itself - to certain annihilation...
Storyline
Edit
Main article: Day Of Disaster/Storyline
Transcript
Edit
Main article: Day of Disaster/Transcript
Regular Characters
Edit
Guest Characters
Edit
International Rescue Equipment Used
Edit
Non-International Rescue Equipment Used
Edit
Locations
Edit
Thunderbird 4 makes its second appearance of the series, in this episode.
Merchandise
Edit
This episode was released on a 8mm home movie, produced by "Arrow films" (1965)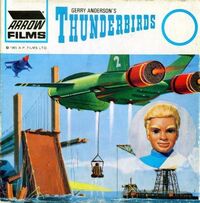 Foreign Titles
Edit
French: Le pont
German: Zwölf Stunden Angst
Spanish: Día desastroso
Italian: Attesa per il lancio del razzo sonda
Dutch: Operatie marsraket (TV 1966); Een rampzalige dag (TV 1991); Dag des onheils (VHS, DVD)
Japanese: 火星ロケットの危機