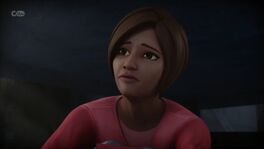 Davina Nicholson is a rescue victim, who only appeared in Getaway.
When a Sonic Wave Device was used for a robbery by Light-Fingered Fred and Gomez, it caused Davina Nicholson to become trapped underground deep down inside the vaults. Lady Penelope summoned Virgil Tracy to rescue Davina, whilst she and Parker set off in hot pursuit of their stolen FAB 1.
Working alongside Cass McCready, Virgil managed to reach Davina. But, unfortunately, they couldn't go back up the same way they came; so with Parker's advice, Virgil used the Sonic Wave Device to break out via the disused London Underground, which by chance, also stopped Light-Fingered Fred and Gomez right in their tracks.
Davina Nicholson was voiced by Ayesha Antoine.