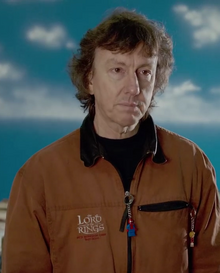 David Tremont (born c. 1958) is a model maker based in New Zealand. He works at WETA Workshop, and says that Thunderbirds is his inspiration for model making.
For the first season of Thunderbirds Are Go!, he is credited as "Special Adviser, International Rescue". In reality, he helped build both filming models and models of classic Thunderbirds vehicles to join WETA's extensive collection. This credit disappeared in season 2, but in February 2017, Tremont said that this was not a strange thing, describing his involvement as minimal and the credit space as limited, adding that a majority of what he did on the previous season can be carried through.
He was invited to make models for Thunderbirds 1965; his most notable creation is the Robbed Stately Home from The Stately Homes Robberies. Tremont was also one of the many people who backed said project.
Gallery
External Links