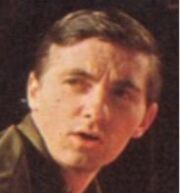 David Lane (born February 4th, 1940) is a British film and television director. He worked alongside Gerry Anderson on most of his best-known projects, from Supercar in 1960 to New Captain Scarlet in 2005. In the 1960s he directed numerous episodes of Thunderbirds and both of the original feature films.
Additionally Lane provided invaluable assistance on The Complete Book of Thunderbirds, gave invaluable help with research for 21st Century Visions, and was later interviewed for Filmed in Supermarionation - both the book and documentary.
An interview with Lane, conducted by Marcus Hearn, featured in Thunderbirds – A Complete Guide to the Classic Series. Also, Lane was credited under "thanks to" on said guide.
Gallery
Episodes Directed by David Lane
Trivia
External Links