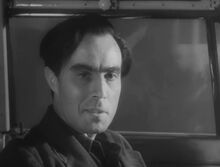 David Graham (born July 11th, 1925) is an English character actor and voice artist. Born in London, he trained as an actor in New York City, and has since worked mainly in British television. Graham is known for his voice work for the series Thunderbirds during the 1960s. He also co-wrote F.A.B. with Desmond Saunders, which in 2015 was turned into a visual episode.
Graham provided the regular voices of Gordon Tracy, Brains, Parker and Kyrano for the TV series Thunderbirds and its film sequels Thunderbirds Are Go and Thunderbird 6, as well as dozens of minor characters.
Other credits from his association with Thunderbirds producer Gerry Anderson include Four Feather Falls (1960), Supercar (1961–62), Fireball XL5 (1962–63), Stingray (1964–65), and The Secret Service (1969). He also appeared in the first movie Anderson ever directed, Crossroads to Crime (1960).
Graham was interviewed for Filmed in Supermarionation - both the book and documentary. Additionally Graham, along with fellow Thunderbirds voice actors Shane Rimmer, Jeremy Wilkin, and Matt Zimmerman, was interviewed for Thunderbirds – A Complete Guide to the Classic Series. Also, Graham was credited under "thanks to" on said guide.
Thunderbirds Are Go! and Other Anderson Projects
Almost 50 years later, Graham returned as the voices of Parker and (later) Braman for the remake of Thunderbirds, Thunderbirds Are Go!. From season 2 onwards, Graham also resumed voicing guest characters, beginning with Vic in Earthbreaker, and Malloy in Rigged for Disaster.
In 2017, Graham narrated the Captain Scarlet audiobooks called "Spectrum Files One, Two and Three" respectively for Captain Scarlet's 50th anniversary. Also, he voiced Parker in the Thunderbirds Halifax advert alongside Dee Anderson, whom voiced Lady Penelope.
In 2019, Graham voiced Brains, Gordon Tracy and Parker in the first series of Anderson Entertainment's Century 21 Tech Talk, a series exclusively to the Gerry Anderson YouTube Channel.
Retirement
In March 2021, David Graham officially announced his retirement as a voice artist, stating the following on the Terror from the Stars audiobook:
"Thunderbirds has been an iconic part of British popular culture for almost six decades and it's not difficult to see why. The selfless International Rescue team, the fantastic science fiction craft and the optimistic view of the future created by Gerry and Sylvia is something that appeals to viewers of all ages.
Having worked on several of Gerry and Sylvia's series before Thunderbirds, I knew that the show was going to be a great success. However, when I recorded the voices of Parker, Brains, Gordon and a host of other guest characters all those years ago, I don't think I could imagine that people would still be enjoying it nearly sixty years later! It's a legacy that I feel very privileged to be a part of and I am very fond of my characters, especially dear Parker.
Now in my 96th year, I think it's a good time to hand over the reins of these wonderful creations to a new generation of actors. I wish them the very best of success as they embark on this new series of audio stories and I look forward to joining Thunderbirds fans across the world in listening to the further adventures of International Rescue. I'm sure they will be F.A.B!
Gallery: Characters voiced by David Graham
External Links