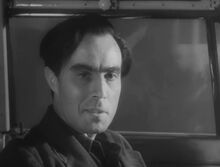 David Graham (born July 11th, 1925) is an English character actor and voice artist. Born in London, he trained as an actor in New York City, and has since worked mainly in British television. Graham is known for his voice work for the series Thunderbirds during the 1960s. He also co-wrote F.A.B. with Desmond Saunders, which in 2015 was turned into a visual episode.
Graham provided the regular voices of Gordon Tracy, Brains, Parker and Kyrano for the TV series Thunderbirds and its film sequels Thunderbirds Are Go and Thunderbird 6, as well as dozens of minor characters.
Other credits from his association with Thunderbirds producer Gerry Anderson include Four Feather Falls (1960), Supercar (1961–62), Fireball XL5 (1962–63), Stingray (1964–65), and The Secret Service (1969). He also appeared in the first movie Anderson ever directed, Crossroads to Crime (1960).
Graham was interviewed for Filmed in Supermarionation - both the book and documentary. Additionally Graham, along with fellow Thunderbirds voice actors Shane Rimmer, Jeremy Wilkin, and Matt Zimmerman, was interviewed for Thunderbirds – A Complete Guide to the Classic Series. Also, Graham was credited under "thanks to" on said guide.
Thunderbirds Are Go!
Almost 50 years later, Graham returns as the voices of Parker and (later) Braman for the remake of Thunderbirds, Thunderbirds Are Go!. From season 2 onwards, Graham also resumes voicing guest characters, beginning with Vic in Earthbreaker.
Gallery: Characters voiced by David Graham
External Links