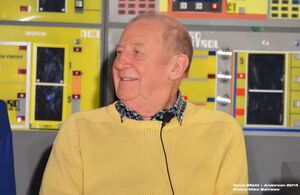 David Elliott (born May 7th, 1931) is a British television director and film editor, who worked on various series produced by Gerry Anderson. He worked as a director on Thunderbirds.
Elliott gave invaluable help with research for 21st Century Visions. An interview with him was published in issue 18 of Andersonic. Elliott was also interviewed for Filmed In Supermarionation, as well as taken back to the original Stirling Road studios with a few of his former colleagues.
In 2015, Elliott was once more invited back to Stirling Road to direct one episode of the Thunderbirds 1965 project.
Filmography
Director
Supervising Director