"What a maiden voyage this has turned out to be. Even the weather's deteriorating."
— Ocean Pioneer I Commander
"Danger At Ocean Deep" is the nineteenth episode of Thunderbirds season 1, first broadcast on 3rd February 1966.
Lost in a mysterious fog while at sea, the tanker Ocean Pioneer suddenly explodes - for no apparent reason. It's only after a sistership, Ocean Pioneer II, has been built, and sent on an identical mission, that Brains discovers that Liquid Alsterene - the tankers' volatile cargo - becomes highly-explosive, in the presence of a certain variety of sea algae...
Storyline
Edit
Main article: Danger At Ocean Deep/Storyline
Transcript
Edit
Main article: Danger At Ocean Deep/Transcript
Regular Characters
Edit
Guest Characters
Edit
Crowd Scenes
Edit
International Rescue Equipment Used
Edit
Non-International Rescue Equipment Used
Edit
Locations
Edit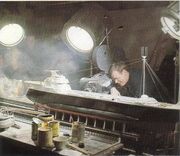 Much of the music from this episode is recycled from the Stingray episode The Big Gun.
The music played during the launch of Ocean Pioneer II is recycled from the Fireball XL5 episode Flying Zodiac, and from the Stingray episode Stand by for Action. (It was also re-used later in the Captain Scarlet episode The Launching, during the launching of the ship President Roberts.)
Ironically, Virgil accidentally contributes to Ocean Pioneer II's destruction when one of Thunderbird 2's thrusters collides with the sea tanker's antenna, setting it alight.
Alan Perry was an uncredited camera operator on this episode.
This is the only aquatic-related mission to not utilize Thunderbird 4.
Main article: Danger At Ocean Deep/Goofs
Foreign Titles
Edit
French: Danger sur les mers
German: Gefahr aus dem Meer
Spanish: Alerta en el Fondo del Océano; Peligro en alta mar (DVD)
Italian: Pericolo in alto mare
Dutch: De kokende zee (TV); Gevaar in de diepe zee (VHS, DVD)
Japanese: オーシャンパイオニア号の危機