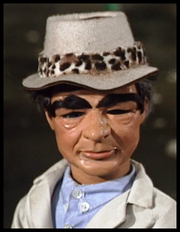 Culp is a character from the Turbocharged Thunderbirds episode Attack of the Alligators!.
Culp was voiced by Dan Castellaneta.
Trivia
His character was called Blackmer in the original episode. Confusingly enough, there was an entirely different character in the original *also* called Culp.
Culp's name is never mentioned by anyone during the episode. It is only known from the end credits.