A pair of crooks are in pursuit of Lady Penelope, who is driving back to Creighton-Ward Mansion in FAB 1.
Driving a customised Ford Thunderbird Convertible, the crooks manage to avoid a smoke screen thrown up by FAB1, (by radar-assisted steering), and oil that the Rolls-Royce sprays onto the road from behind. The crooks' car swerves left and right, but the car stays on the road thanks to the retractable studs fitted to the tyres.
As a last resort Lady Penelope opens fire with the rear machine guns, blasting the car from the road.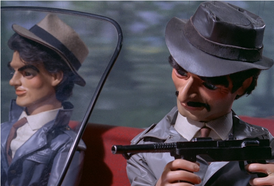 Customized Car
Blasted from the Road