You may be looking for the 2015 version.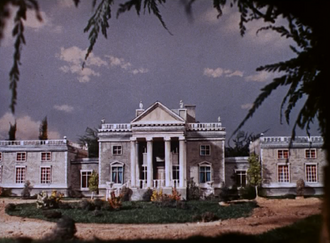 Built in the eighteenth century, the Creighton-Ward Mansion stands on the site of a Norman castle in rural Kent. Designated by World Heritage as a grade one listed building, Creighton House has nonetheless been extensively, yet subtly, modernized to include infrared burglar alarms, inter-room video communications, and a forensic laboratory has been built in what were the servants quarters "below stairs". Running costs are kept to a minimum: only Parker and Lil live permanently on site with her ladyship.
Exterior
Garden
Interiors
Entrance Hall
Main Lounge
Library
When Warren Grafton pays a visit to Lady Penelope, Parker shows him into the library.
Safe
Hidden under the carpet of the library is Lady Penelope's safe. In Brink of Disaster, Harry Malloy and Selsden break into Creighton-Ward Manor and plunder the safe.
Safe Alarm System
The safe in the library is protected by an independent alarm system, that when triggered, will set off flashing lights inside Lady Penelope and Parker's bedrooms. The safe also has a video view, which is disguised as paintings on the walls of both bedrooms.
Kitchen
Parker's Study
Master Bedroom
Lady Penelope's bedroom.
Parker's Bedroom
Parker keeps his suitcases under the bed, one of which holds a sub-machine gun!
Communication Devices
Creighton-Ward Manor has several different communication devices throughut the house.
Hallway Communicator
Used in Brink of Disaster, Parker is able to contact Lady Penelope who is driving FAB 1 by twisting the figurine on the banister of the staircase.
Tea Pot - Main Lounge
In Trapped in the Sky, Lady Penelope twisted the top of her tea pot to accept an incoming call from Jeff Tracy on Tracy Island.
The tea pot also appears in The Cham-Cham and Thunderbirds Are Go, and in a little cameo, with Scott, in Day Of Disaster.
Candle Holder Microphone - Dinning Room
Video Phone - Dinning Room
Lady Penelope has a standard video link inside an oak cabinet.
Room To Room Communications
Lady Penelope is able to contact Parker in the middle of the night by the use of her bedside microphone hidden inside a jewelry box. Parker's communicator is hidden inside the lid of his beer stein.
Garages
An array of garages are present to the right of the property, with at least one holding FAB 1.
Key Features
Below is a list of features of the house, (according to Graham Bleathman, in his "International Rescue Book of FAB Cross-Sections"), not seen on screen.
First floor guest room
Main Guest rooms on the first floor
Book and video Library
Games Room
Attic containing emergency power system
Satellite communications room
Hallway
Banqueting hall
Recreation room, including art studio
Wine cellar
Weapons store
Ballroom
Entrance to an underground stream that runs to Creighton Village
Cutaway Drawing
Main article: History of the Cutaway Drawings (Classic Thunderbirds)
As far as is known, there is only two cutaway drawing of the Creighton-Ward Stately Home, both illustrated by Graham Bleathman.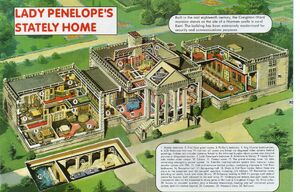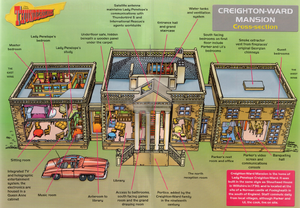 Family Crest
The family crest of the Creighton-Wards is displayed proudly over the fireplace in the main lounge, carved into stone to ensure its longevity.
Trivia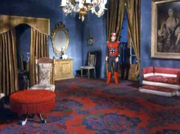 Creighton-Ward Manor is in the hamlet called Foxley Heath. This village is so tiny that Lady Penelope was able to obtain the telegraphic adres Foxleyheath for her personal use.
Adorning the lounge of the manor is a painting by Bob Bell which depicts an 18th-century lady in a rococo dress. This turned up again at Glengarry Castle in the Captain Scarlet and the Mysterons episode The Trap, in which the prop appeared in the main hall and Captain Scarlet's bedroom.
Stourhead House in Wiltshire, the 18th-century Palladian mansion, inspired the design of Lady Penelope's home.