"Yeah. I tell you, this character's a walkover."
Chandler is a character from The Duchess Assignment. He is one of the crooks who try to rob the Duchess of Royston of her valuable painting.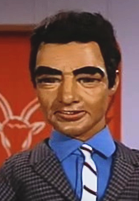 A Picture For Rent
Chandler visits Wilbur Dandridge with the painting calming to represent the Duchess of Royston and demanding the rental money, but Dandridge smells a rat and alerts the police. He pulls a gun on Chandler, but it goes off darning a struggle and the painting is ruined.
Trivia