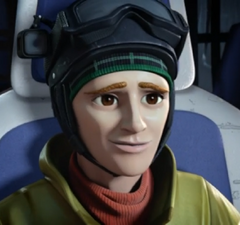 Brandon Berrenger is a character who made his debut in High Strung. He is an employee of Francois Lemaire and an internet vlogger known as "The Bear" with millions of followers.
He stole a balloon of Francois's and during a snowstorm veered off course. The balloon was destroyed, but thanks to the intervention of International Rescue he survived. Instead of losing his job, he received a promotion, much to the dismay of Scott Tracy.
In Avalanche, Brandon was making a live vlog snowboarding down a mountain when he got caught in an avalanche; luckily for him, Alan Tracy (who was meant to be carrying out maintenance on Thunderbird 2) was watching his live vlog when the vlogger got stuck in the snow; so, International Rescue had to go and rescue him. Alan was desperate to be on Brandon's vlog, but Brandon wanted the vlog just to feature himself. However, he admitted to Alan his admiration for International Rescue, as he considered their dangerous missions quite cool. After the rescue, Brandon conclude his live vlog with Scott, Virgil and a very happy Alan.
Brandon was voiced by Tom Rosenthal.