You may be looking for the classic incarnation.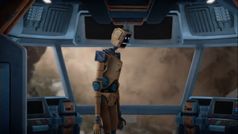 Braman is an old robot that Brains built as a gift for the crew of the Calypso. Unlike MAX, he has the ability to talk. When the Calypso was on crash course towards Earth, Braman was repeating a SOS call stating: "Emergency! Emergency! Situation: Critical!" However, when International Rescue came to the aid of the crew, Brains asked his old robot friend to guide the Calypso into a crash course into the ocean, which he successfully achieved.
Despite being down in the depths of the ocean, Braman was active again still repeating the same SOS call, much to the confusion of International Rescue; which unfortunately for them, The Hood also picked up Braman's message and joined his Chaos Crew to track him down. Gordon Tracy got Braman first, but after Thunderbird 4 was badly damaged by the Chaos Cruiser, Fuse collected Braman. However, when Kayo used Thunderbird Shadow to take control of the Chaos Cruiser, the Hood orders for Braman to be ditched as a distraction. But, Brains informed Kayo to rescue Braman as he contained vital information; and that information, collected from the Calypso's computer log, revealed that the SOS call came from outside the solar system - and with the letters of F.A.B. within it, Brains figured out that only Jeff Tracy could have sent the SOS.
In The Long Reach Part 1, Braman was mentioned by Virgil Tracy when International Rescue, aboard the Zero-XL, picked up Jeff's distress call inside the Oort Cloud.
Like his classic series counterpart, Braman was voiced by David Graham.