Mr. Hackenbacker, better known by his preferred alias of "Brains", is a character from the live-action Thunderbirds released in 2004. He has a son called Fermat and he is the designer and creator of all of the Thunderbird craft.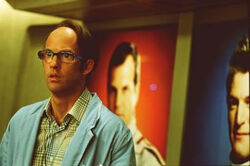 Trivia
He was the first International Rescue victim to be mind controlled by the Hood.
He has the same stutter as the original Brains. At a crucial moment in the film he dropped the stutter and yelled "damn it Jeff, wake up!". He resumed his stutter afterwards.
His wife and Fermat's mother is never seen or mentioned in the film.