"Gentlemen, the Thunderbird machines will be arriving here at approximately 11:00 hours, tomorrow morning. The final phase of Operation "Ambush" has commenced."
Black Phantom (only known name) is a shadowy, enigmatic - and utterly ruthless - figure, as evidenced by the elaborate scheme he's devised. Its goal: to take down International Rescue!
"Operation Ambush" begins with Skyship One, the high-tech airship designed by "Mr. X" (Brains), which is about to embark on its maiden round-the-world voyage. Black Phantom plans to steal the airship - with its passengers (Alan, Tin-Tin, Parker and Lady Penelope) - literally, in plain sight. Members of his criminal gang, posing as crew members, furtively get aboard and kill the real Skyship crew. Because the airship is fully-automated, the imposters' seeming lack of expertise will thus go unnoticed...
He also orders his phoney Captain Foster to record, then transmit, a fake distress call from Penelope (pieced together from covert recordings of her voice) - so that he could then trap Thunderbirds 1 and 2 in his desert hideout, and murder their occupants...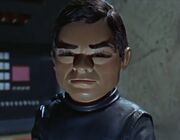 However, the four IR agents figure out the ruse in time, and warn Jeff, at Tracy Island. But the hijackers - and Black Phantom himself - are far from finished...
Voiced by Gary Files, Black Phantom appears in the movie Thunderbird 6.
Notes