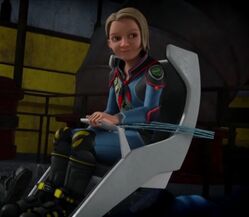 Beatrice, better known as "Bee", is a Rescue Scout who with her friend Henry, became trapped inside an old Crablogger when there was a forest fire. Just like Henry, she is a 'buzzard' in the Rescue Scouts.
When Scott Tracy came to their aid, Bee impressed him with her knotting skills; and when Thunderbird 1 and Thunderbird 2 were both utilised to lift the Crablogger, Bee even reminded Scott to remain calm.
After the rescue mission, Scott was very confident that Bee and Henry would become 'falcons'.
Bee was voiced by Hannah Moncur, and appears in Firebreak.
Trivia
Bee's hover-chair is not only homage to Commander Shore's hover-chair in Gerry Anderson's Stingray; but also to her voice artist Hannah Moncur, who is also wheelchair-bound.