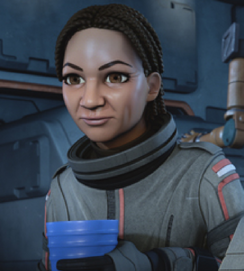 Asher is an astronaut who was aboard the Calypso spaceship with her colleague Finn. When they were woken up by Scott Tracy, she told him that his father Jeff Tracy was one of a kind, having trained them both and she was sorry to hear about his loss. Examining the Calypso's computer data-log, Asher noticed that Braman had changed the course of Calypso towards Earth, but also had been repeating an "SOS" over and over again for no apparent reason.
Asher and Finn were transferred over to Thunderbird 3, as the Calypso with Braman piloting it broke apart on re-entry and crashed into the ocean off the west African coast.[1]
Asher was voiced by Nina Sosanya.
References