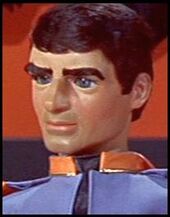 "I think our security arrangements are inadequate, and would suggest that we ask International Rescue to be present at the next launching."
The angry young man is a character from Thunderbirds Are Go. Much to the dismay of his superior, he opposes another mission to Mars unless security is handed over to International Rescue.
He is voiced by Charles Tingwell.
Trivia