"Boy, this isn't going to be easy. Come on, Alan, get this machine down on an even keel..."
Alan Tracy is the youngest of Jeff Tracy's five sons, and the pilot of Thunderbird 3.
Alan's signature colour on his IR uniform is white.
Biography
[
]

Alan was named by his parents after Mercury 7 astronaut Alan Shepard.
He was educated at Colorado University and while being involved in an experimental rocket project, Alan was involved in a near-catastrophic accident, resulting in an unexpected disaster. Despite this accident, he went on several lunar missions.
With a love of speed reflected in being an avid motor racer, he was making a name for himself as a champion racing-car driver before piloting International Rescue's space craft: Thunderbird 3.
For sport, Alan enjoys rock climbing and running (as reinforced in his enthusiasm for exploring the rocks and potholes located in otherwise-inaccessible points of Tracy Island); both serving as constant sources of adrenalin-inducing activity.
His close bond with Tin-Tin started at an early age.
Personality
[
]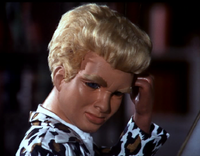 Alan is caring and deeply romantic; and, although the youngest of his brothers, he displays a great maturity in his responsibility to the organisation.
He's also something of a practical joker (probably taking after older brother Gordon).
And he's in love, with Tin-Tin Kyrano; and he just might also have a crush on Lady Penelope (The Perils of Penelope and Thunderbirds Are Go).
Alan and Tin-Tin
[
]
Whenever we seen Tin-Tin, Alan is never very far away - usually right by her side. In End Of The Road, it becomes apparent that Alan is in love with her...
But then, Eddie Houseman suddenly (and quite unexpectedly) turns up on Tracy Island - to visit his "old friend," Tin-Tin. Poor Alan's left sulking, while his brothers tease him about all the attention Tin-Tin's getting from Eddie...
Duties
[
]
As well as being the primary pilot of TB3, Alan changes shifts aboard Thunderbird 5 with his elder brother John (and even Scott, on occasion), usually on a month-on, month-off rotation.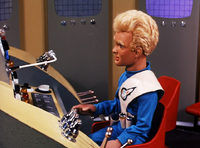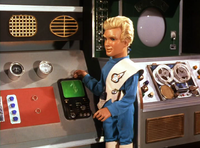 In Atlantic Inferno, when Scott assumed command of IR in father Jeff's absence, Alan was called upon to pilot Thunderbird 1 in his elder brother's place; the organisation reasoned that this decision made sense, insofar as Thunderbirds 1 and 3 were rarely used on the same mission.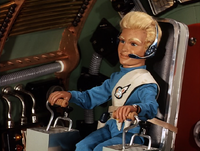 Outfits
[
]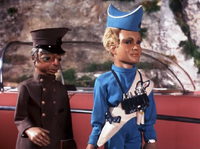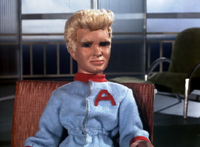 Main article: Alan Tracy/Outfits
Appearances and Missions
[
]
Main article: Alan Tracy/Appearances
Film Appearances
[
]
Alan appears in both films, Thunderbirds are Go and Thunderbird 6.
Trivia
[
]
Alan's facial features are based on those of actor Robert Reed.
Expressions
[
]
Gallery
[
]
Quotes
[
]