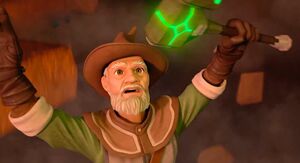 Sylvester - better known by his wizard-like pseudonym Aezethril - is the creator of the hugely successful game Cavern Quest. After the success of the original game, Aezethril begun construction of a "real life" version of the game, using holograms provided by the Holotrix.
After the Chaos Crew attempt to steal the Holotrix, Aezethril teams up with Kayo and Alan Tracy of International Rescue to try and stop them. However, in order to beat the villains to the Holotrix, the trio must try and complete the unfinished game. After Aezethril's "wand" is destroyed - the device's remote control - the Holotrix becomes unstable and destroys a large portion of the theme park. Reflecting upon his near-death experience, Aezethril decided to retire his wizard persona.[1]
Aezethril was voiced by - and named after - Sylvester McCoy.
References
[
]